Underwater school archaeology courses
---
013. Discover Amphora & Shipwrecks in the Underwater Port of Sanitja (Menorca, Spain).

---
014. Explore Underwater Pompeii (Baia Underwater Park, Naples Bay – Italy) & Discover Amphora & Shipwrecks in the Underwater Port of Sanitja. (Menorca – Spain)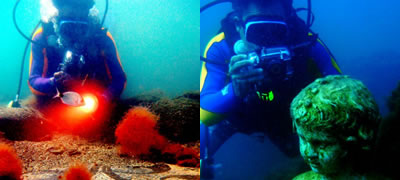 This course focuses on underwater survey in the Ancient Port of Sanisera, Menorca Spain, Mediterranean ship building techniques and studying the submerged archaeological remains of Portus Iulius and the Roman villas of the Baia Underwater Park, Naples Bay, Italy. The aim is to identify underwater structures of the Roman city of Sanisera and shipwrecks, as well as anchors and amphorae related to those shipwrecks and its cargoes. Then students will travel to Naples, Italy to study the ruins of ancient Roman harbour.
---
027 Surveying the Roman Mediterranean Ports: Portus Iulius (Italy) & Sanisera (Spain)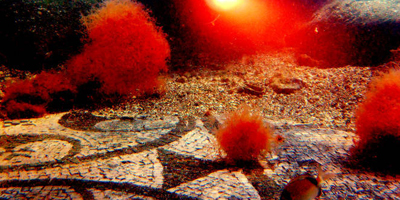 In the Roman port of Sanisera (Menorca , Spain ), in a privileged landscape, you can dive into different depths with wide visibility, learning how to recognize remains of amphorae, anchors and Roman shipwrecks with which you will practice the survey method and the applied registration system (photographic documentation in 2D and 3D , drawing, classification of amphorae, ... ).
In one of the most unique ports of the Roman world, Portus Iulius (Naples, Italy), you will investigate a unique and exceptional seabed, one of the best in the field of underwater archeology
---
029 Research and Underwater Survey in Portus Iulius ('Underwater Pompeii', Italy)
---
041 Discover the Underwater Archaeology of the Port of Sanitja & Archaeological Techniques of drawing, photography and digital illustration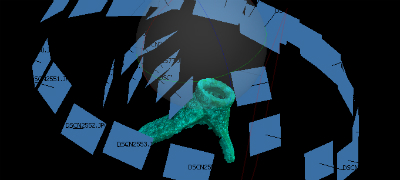 This program is divided in two main parts. During the first part of the course students will gain experience in underwater archaeological survey, exploring the Ancient Port of Sanitja and the coast of the Cape of Cavalleria. The aim of this project is to identify structures of the Roman city of Sanisera and underwater shipwrecks, as well as the associated cargo including amphora and anchors. During the second part of the course, students will learn the Tools and laboratory techniques used with archaeological material.
---
046 Underwater Archaeology in Sanitja harbor & Dig in the Roman city of Sanisera (Menorca, Spain)


General Information What you will learn
Useful Information Staff Sess. & Cost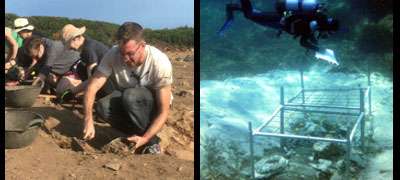 The ancient Roman city of Sanisera is located on a natural harbor. For this reason, we are lucky that the land excavations and the underwater activities take place in the same area, allowing us to develop projects in the terrestrial and marine environment, using different methodologies and techniques with a great team of professionals and experts. Also, you can learn from the beginning excavation techniques and methodology. During the excavation, you will find archaeological remains from the classical period including Roman pottery, amphorae, glass, etc. that you will learn how to identify in the laboratory. The course lasts 18 days and will be divided into two different periods. The first nine days will be dedicated to underwater archaeology activities while the rest of the course will be focused on everything that is related to a land excavation.
---